Magoosh:
Up to $735 Savings!
Magoosh: GRE Prep that's as smart as you are
Buy a Magoosh 6-month Premium Course today!
Key Features:
Learn from 250 video lessons that teach you all the topics covered on the GRE
The videos are animated shorts designed to target specific concepts and keep your attention.
Detailed results summary
Compare your pace and accuracy with other users and get a score prediction to know how you'll do on test day.
Keep track of your answers
Flag difficult questions and review all past answers.
Use it anytime, anywhere
Unlike a tutor or a class, Magoosh is available anytime you want it - on your laptop, smartphone, or iPad, all you need is an internet connection.
Stumped? Get help from our experts.
If you need additional help with one of our questions or even an Official Guide question, let us know and our team will get back to you within 24 hours.
Customize your practice
Review difficult subjects or simulate an actual exam.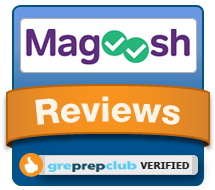 More:
Answer over 1,200 practice questions in GRE simulated environment
Each practice question comes with a video explanation, and with our custom practice feature you can create your own mock tests.
Access for 3 months
Unlike most programs which only last a few months, we'll give you access for at least a year. And if you need an extension, just let us know. You shouldn't have to cut your prep short.
7-day money back guarantee. No strings attached.
Need to cancel for any reason? Let us know within 7 days of purchase, and we'll give you a full refund. We've always delivered on this promise.
Still have questions? Call us at 1-855-MAGOOSH or 510-214-0212
We know buying a GRE prep is a daunting experience. So call us and figure out if Magoosh is right for you.
---
Magoosh GRE Product Tour:
Success Stories:
It's time to improve your score! Take advantage of Magoosh Premium just for being a GRE Club member, plus get a 7-day money back guarantee.